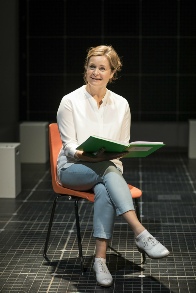 Julie is currently performing as SIOBHAN in the National Theatres West End production of 'The curious incident of a dog in the nighttime', a role she played on the recent international tour.
Film - TV - Theatre
Contact:
Maryam Hunwick
Hunwick Associates
4 West Mayfield, Edinburgh EH9 1TQ
Tel: 0131 667 0530
e-mail: maryam@hunwickassociates.com
Theatre work includes;
'Curious Incident' (International Tour) National Theatre, 'Whisky Galore' ( in Gaelic) with National Theatre Scotland , 'Cured' by Stef Smith as part of the Glasgay Festival at the Arches, Glasgow, 'Old Times' and 'Love in the Title' with London Classic Theatre. 'Lovechild', 'Ceausescu's Ear' and 'Pericles' all with Gerry Stembridge. 'Sunshine Boys' at the Gate Theatre, Dublin 'Exiles' by James Joyce at 'The Friends of the Italian Opera Theatre', Berlin. Irish National tour of 'Canaries'. 'Abigail's Party' and 'The Gingerman' at The New Theatre, Dublin. 'The Gingerman' then transferred to the Irish Arts Centre, New York where she was then cast and performed in the New York premier of 'Red Roses and Petrol', directed by Neil Jones.
Film and Television work includes
Shetland, Garrow's Law, Crash, My Left Foot, Ash Wednesday, W.C., Troubles, Black and White, When Brendan met Trudy, Flick, Black Day at Blackrock, Bobbie's Girl & Bloom.
Julie had an ongoing role as Terry Deegan in the Irish Soap Opera 'Fair City 'for 8 years and was D.I. Amanda Rook in the Scottish Soap Opera 'River City'.